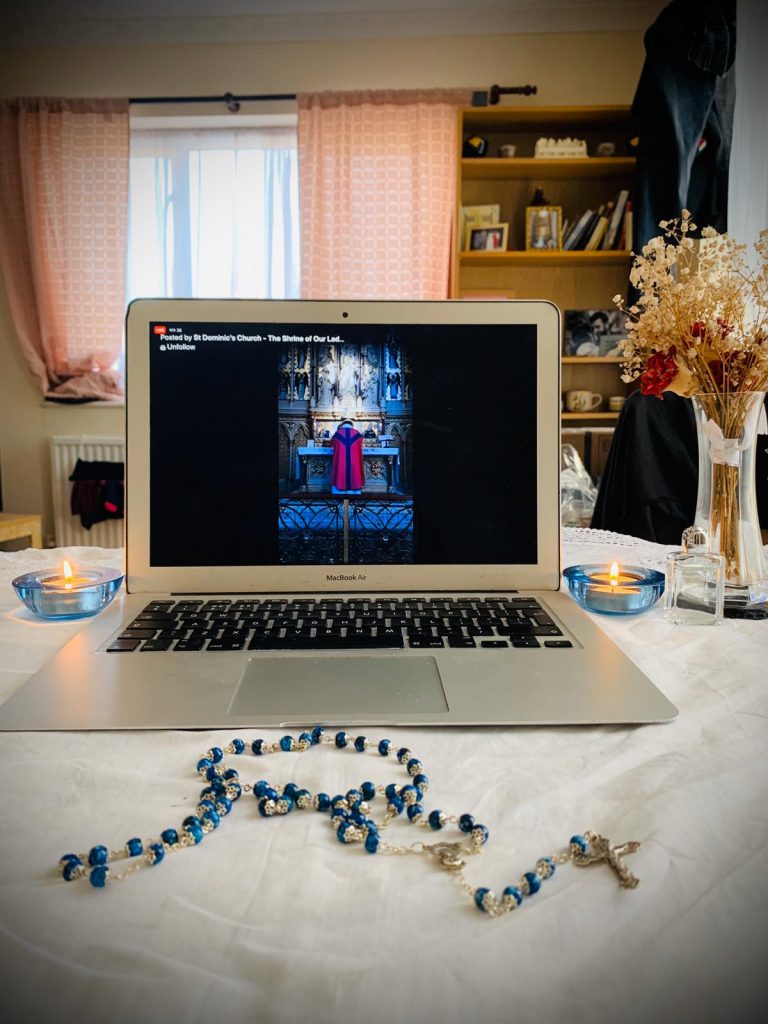 The Dominican friars of England and Wales have a full set of listings for livestreamed Masses on weekdays and Sundays broadcast from our Dominican priories and churches.

Currently, in St Dominic's, the following Masses are livestreamed on our Facebook page: Sunday 12 noon (Ordinary Form) and Sunday 4pm (Dominican rite/Extraordinary Form).

Please visit this page, and keep participating in praying the Mass with us especially on Sundays. There are also other live Masses from Westminster Cathedral, and other churches in the Archdiocese: see this page.
At the moment of Holy Communion, make an Act of Spiritual Communion, expressing your deep and loving desire to be united with God through charity. This is a prayer recommended by Cardinal Nichols:
Go, my Angel Guardian dear, to church for me, the Mass to hear. Go, kneel devoutly at my place and treasure for me every grace. At the Offertory time please offer me to God Divine. All I have and all I am, present it with the Precious Lamb. Adore for me the great Oblation. Pray for all I hold most dear, be they far or be they near. Remember too, my own dear dead for whom Christ's Precious Blood was shed. And at Communion bring to me Christ's Flesh and Blood, my food to be: To give me strength and holy grace; a pledge to see Him face to face; and when the Holy Mass is done then with His blessing, come back home.
The Holy Father announced that a plenary indulgence is granted to all those who participate in these livestreamed Masses and Rosaries, who are also are suffering from the coronavirus, all those isolated and quarantined at home (as we now are in the UK), and all those who pray for an end to this pandemic. To be clear, an indulgence is not the same as the forgiveness of sins. Ordinarily, sins can only be forgiven in the Sacrament of Confession. An indulgence is the taking away of any suffering that results from the wound of our sins, even those that are forgiven.
During this time of the pandemic, when access to the Sacrament of Confession will be more difficult, the Catechism tells us to make an act of perfect contrition, ie, to express genuine sorrow for your sins because you love God and are sorry for having offended his goodness and wounded the crucified Saviour Jesus Christ:
When it arises from a love by which God is loved above all else, contrition is called "perfect" (contrition of charity). Such contrition remits venial sins; it also obtains forgiveness of mortal sins if it includes the firm resolution to have recourse to sacramental confession as soon as possible.

Catechism of the Catholic Church, no. 1452