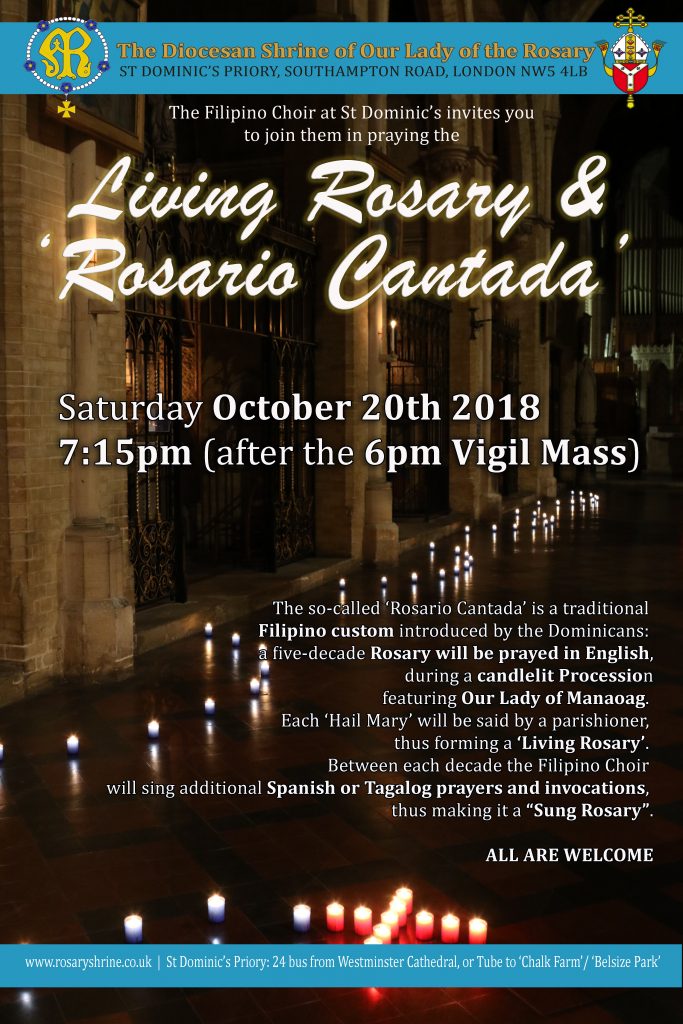 The third Saturday of this month, 20th October, will see a beautiful and traditional way of praying the Rosary that has never been witnessed before in London. In the Rosary Shrine church (St Dominic's Priory), the official replica statue of Our Lady of the Rosary of Manaoag from the Philippines will be taken in procession after the 6pm Mass. During this procession, five Mysteries of the Holy Rosary will be prayed, but with a difference: fifty people will hold a giant Rosary made up of white lanterns, and as each 'Hail Mary' is said, the corresponding lantern will be lit up. As the Rosary advances, then, the lanterns are successively illuminated until the entire Rosary is aglow with light. This is what is meant by a 'Living Rosary'.
In addition, between each decade of the Rosary, the Filipino Choir will sing traditional music in Filipino, Spanish and Latin. Following a centuries-old custom that was introduced by the Spanish Dominican friars who evangelised the Philippines, the 'Rosario Cantada' consists of musical pieces sung in praise of Mary, which punctuate the recitation of the Holy Rosary. What we propose to enact on the 20th of October at 7:15pm, therefore, is a praying of the Living Rosary interspersed with the music of the 'Rosario Cantada'. It is believed that this is the first time the 'Rosario Cantada' repertoire will be sung outside of the Philippines, and Lesther Encarnación spoke about it on the radio recently:
In this way, the Rosary Shrine offers a Rosary of song and light to Mary, and we wish to share the rich culture of Catholic Philippines with the people of London.